Gazing up through the 31-foot oculus lens into the Gulf Stream Aquarium gives you an unmatched view of one of the world's most powerful ocean currents on the planet, home to one of the ocean's apex predators: sharks.
In honor of the Discovery Channel's Shark Week celebrating 30 years on air, we're counting down our top five favorite shark facts. Our very own Andy Dehart, Vice President of Animal Husbandry and Marine Conversation, is a shark expert and has been featured in numerous Shark Week productions on the Discovery Channel as a Shark Advisor.
Count 'em Out
There are over 400 species of sharks in the world. Sounds like a lot? Well, there's nine different species of hammerheads alone! At Frost Science, our Gulf Stream Aquarium is home to scalloped hammerhead sharks.
Biggies and Smalls
Sharks have quite the range, but more than half of all shark species will never be larger than three feet long. The largest shark? That's the whale shark, they can reach lengths of up to 40 feet! On the other end of the scale, dwarf lantern sharks only get as big as eight inches.
The Odds are in Your Favor
Did Jaws scare you? This should ease your fears… Shark bites are actually rare, there's less than 100 shark bites reported globally each year. Of those bites, only about five are fatal.
There's a Catch
Sharks should fear us far more than we should fear them. Annually, humans are responsible for the deaths of over 73 million sharks across the globe. That's about 200,000 sharks per day, or 8,333 per hour. The main culprits? Targeted fishing of sharks and bycatch, where sharks get trapped while other seafood is being fished.
Skin of the Teeth
Shark skin is actually covered in dermal denticles. Instead of resembling fish scales, sharks have what more closely resembles modified teeth. The silky sharks in our Gulf Stream Aquarium stand out for more than just their beauty—they got their name because their skin is significantly smoother than other shark species.
Despite their power, sharks are no match for humans. Sharks are slow to mature and have fewer offspring than other commercial fish like tuna, snapper or grouper. Visit Frost Science to learn more about sharks, and the work we're doing to ensure they are protected.
The post Top 5 Things You Didn't Know About Sharks appeared first on Frost Science.
Today, Wednesday, June 20, 2018, the Phillip and Patricia Frost Museum of Science in Downtown Miami's Museum Park welcomed its one millionth visitor since opening on May 8, 2017. Over the past year, Frost Science has continuously transformed the visitor experience including new exhibitions, special events and programming, along with new educational offerings such as enhanced field trips, camps, overnights and more.
"With the hard work of our team and the support of our community, we are proud to meet this milestone and welcome our one millionth visitor within 13 months of our opening," said Frost Science President and CEO Frank Steslow. "Frost Science has been welcomed with open arms by residents and guests alike and we are certainly proud of the accomplishments we have made. Together, we have laid the foundation for science-learning and discovery in Miami-Dade County. We will continue to offer new and novel ways for our community to explore the power of science."
"When we opened the Phillip and Patricia Frost Museum of Science, it was the fruition of a vision to provide our Miami-Dade County residents and visitors access to a world-class, state-of-the-art science museum," says Miami-Dade County Mayor Carlos Gimenez. "A year later, as the museum welcomes its millionth visitor, that vision is fulfilled and we are excited to see that our community has been taking advantage of this great place that educates children and families on science and technology in fun, inspiring and innovative ways! I am proud of the technological and educational contributions Frost Science makes to our community and wish them much continued success."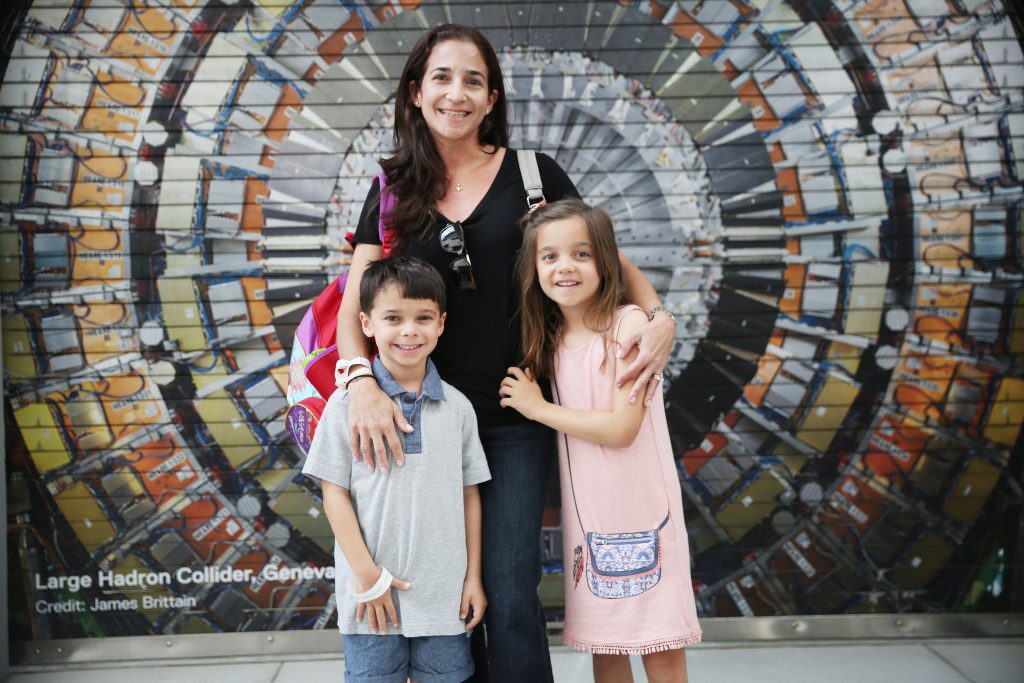 To mark the occasion, the one-millionth visitor, Gisel De Renzo, along with her family, was surprised with a 7-night Caribbean cruise courtesy of Royal Caribbean International. Gisel De Renzo also won a Frost Science gift bag with branded items, a $100 gift card to Frost Science and "1 million minutes of science" (a two-year Family PLUS level membership). Gisel De Renzo then went on to enjoy a special museum experience including an animal encounter. Within the hour of the one millionth visitor, all museum guests enjoyed complimentary snacks by local donut shop, Happy Place Donuts, and a special Frost Science giveaway.
"Culture and education serve as necessary ingredients for the City of Miami to evolve into a truly global city. Thanks to institutions like Frost Science, Miami offers both," said City of Miami Mayor Francis Suarez. "This vibrant museum attracts visitors from all over the world and engages them through fascinating exhibitions, adding yet another layer to Miami's array of unique activities. By welcoming their one-millionth visitor, Frost Science validates its value as a key player in helping us expand our global reach and enhance our status as a thriving national and international destination."
Frost Science has welcomed several groundbreaking special exhibitions to its campus since opening, including The Power of Poison: From the Depths of the Sea to Your Own Backyard, SPACE: An Out-of-Gravity Experience, BRAIN: The Inside Story, Monster Fish: In Search of the Last River Giants, SEEING: What Are You Looking At? and The Mechanicals. The museum has continued to grow with supporting grants and generous donations from foundations and corporate partners. Frost Science also had a record-breaking day during the total solar eclipse in August, welcoming over 8,500 guests to experience this once-in-a-lifetime event. Throughout the year, Frost Science has hosted distinguished guests and notable speakers including Cara Santa Maria, Nick Uhas, Dr. Wallace J. Nichols and more.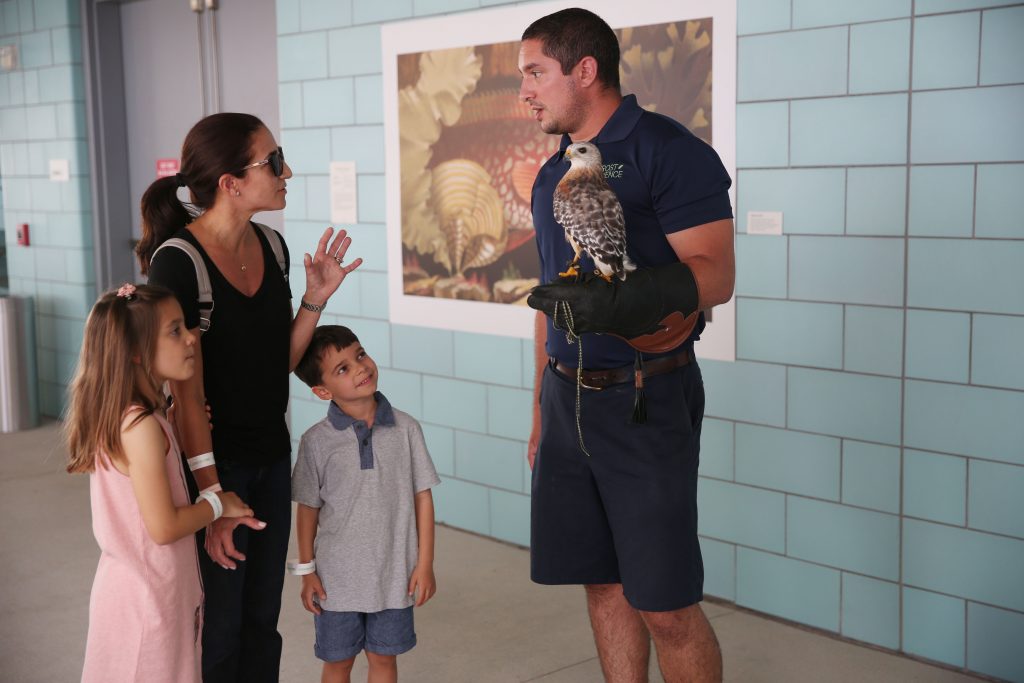 "With the opening of the Phillip and Patricia Frost Museum of Science, alongside the Arsht Center and Pérez Art Museum Miami, Miami's cultural hub is nearly complete," said Alberto Ibargüen, president of The John S. and James L. Knight Foundation, a major funder of all three institutions. "Frost Science is a major part of a cultural attraction that is drawing the world, and a multimedia learning space that lets thousands of school children a year engage hands-on with science."
"The opening of the Phillip and Patricia Frost Museum of Science has further elevated the appeal of Miami and its attractions, which are among the most unique and exotic in the world," says William D. Talbert, III, CDME, President & CEO of the Greater Miami Convention & Visitors Bureau. "From its magnificent design and stunning waterfront location on Biscayne Bay to its exceptional exhibits and programming, visitors from around the globe are eager to experience Frost Science's extraordinary offerings."
The post 1,000,000 Visitors…and Counting! appeared first on Frost Science.
South Florida is blessed with water. With an ocean to its east and south and the largest freshwater wetland in North America located to the west, it's a veritable aquatic paradise. Come rainy season, water comes from the skies as well, with our frequent rains providing ample water for drinking, irrigation and aquatic activities.
But too much of it, particularly from the ocean, can stress our coastal integrity and threaten our very existence. Florida has more residents at risk from the consequences of climate change than any other U.S. state. Globally, South Florida faces the highest risk from the effects of sea level rise in terms of the potential loss of billions of dollars of infrastructure. Sea level rise implies a host of effects that go beyond rising sea levels, including flash floods, urban heat, sea water intrusion into the aquifer and beach erosion.
The gloomiest predictions are based on inaction and continuing a "business as usual" mentality. But the situation isn't hopeless—in fact, it's one we can tackle as a community. The more we do and the better we adapt, the softer the landing.
Sea levels are rising in South Florida about six times faster than the worldwide average, yet Miami residents point to a lack of information and a shortage of opportunities to make a positive difference. Frost Science's Museum Volunteers for the Environment (MUVE) initiative engages local residents by restoring living coastlines. This restoration helps protect their communities and enables individuals to take ownership of adapting to climate change.
Yet, perhaps the best tool in Frost Science's arsenal is the ability to inform and engage thousands of visitors through original exhibitions. Frost Science was built with a special feature called "flexible furniture." With plumbing and electricity built into the floor of The Dive level of our Aquarium, we are able to change many of our table top exhibits. Just like a changing coastline, this allows us to continually offer new content to our visitors.
Recently, Wells Fargo, via the National Fish and Wildlife Resilient Cities program, in partnership with the City of Miami and Miami-Dade County, recognized this attribute with a major grant to Frost Science. The funding will help restore three living shorelines around Greater Miami while giving Frost Science the ability to create a series of original flexible exhibits that explain how local coastal ecosystems are protecting us from sea level rise. These exhibits are going live this month in conjunction with The Power of Poison: From the Depth of the Sea to Your Own Backyard and Da Vinci – Inventions special exhibitions.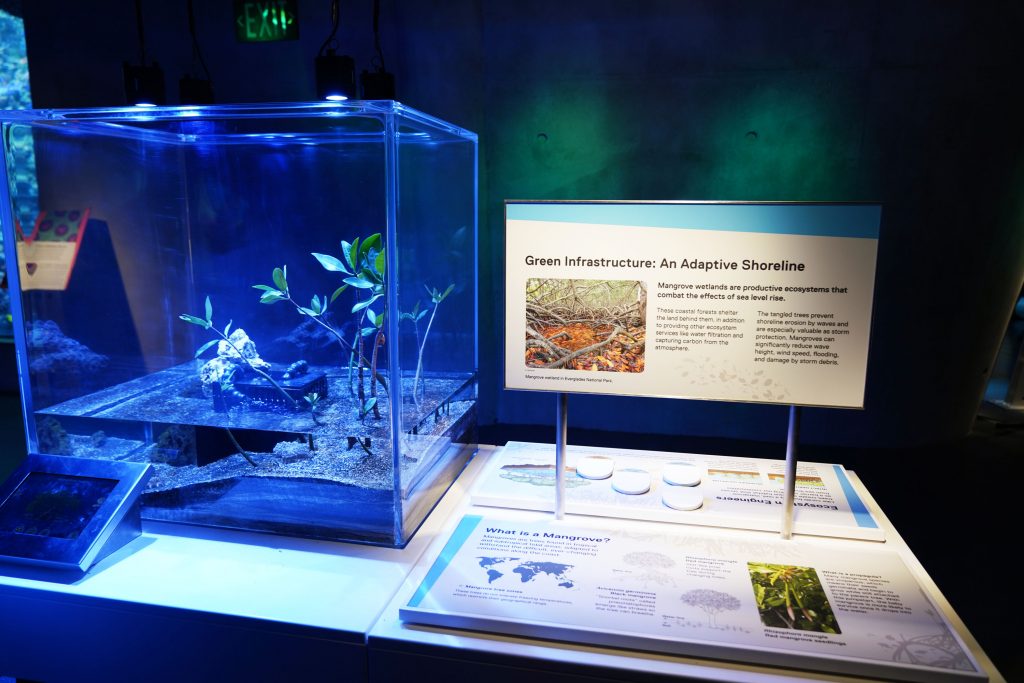 The first sea level rise-themed table top exhibits touch on the power of living shorelines (think: mangroves and dunes instead of seawalls) to protect inland areas from sea level rise and storm surge. We've all seen the images of sea walls being breached by waves during Hurricane Irma, rendering them useless. Green shorelines use their living structures to anchor sand in place (dunes), stay above the water through elevated roots (mangroves) and diminish the power of waves using their leaves and roots (saltwater grasses).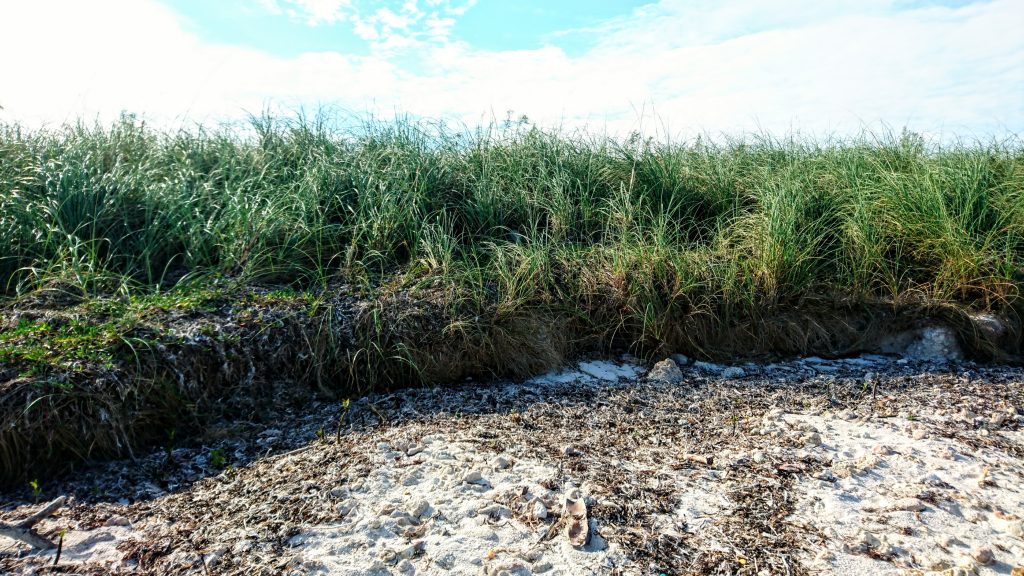 But the power of native habitats actually starts offshore, where coral reefs can absorb up to 97% of the power of incoming waves. Taken together, it's hard not to appreciate these "hard-working habitats."
Other table top exhibits feature our new Topo Box, an interactive, 3D topographic map that enables visitors to create their own landscapes and shorelines—from snow-capped mountains to the deep sea. Wiggling fingers overhead creates rainstorms, allowing visitors to explore how water moves through the environment and how large weather events might affect areas impacted by sea level rise.
In addition to the Topo Box, the Science Portal allows you to see live video, images and data feeds from research projects around the world. You can also use it to sign up as a MUVE volunteer.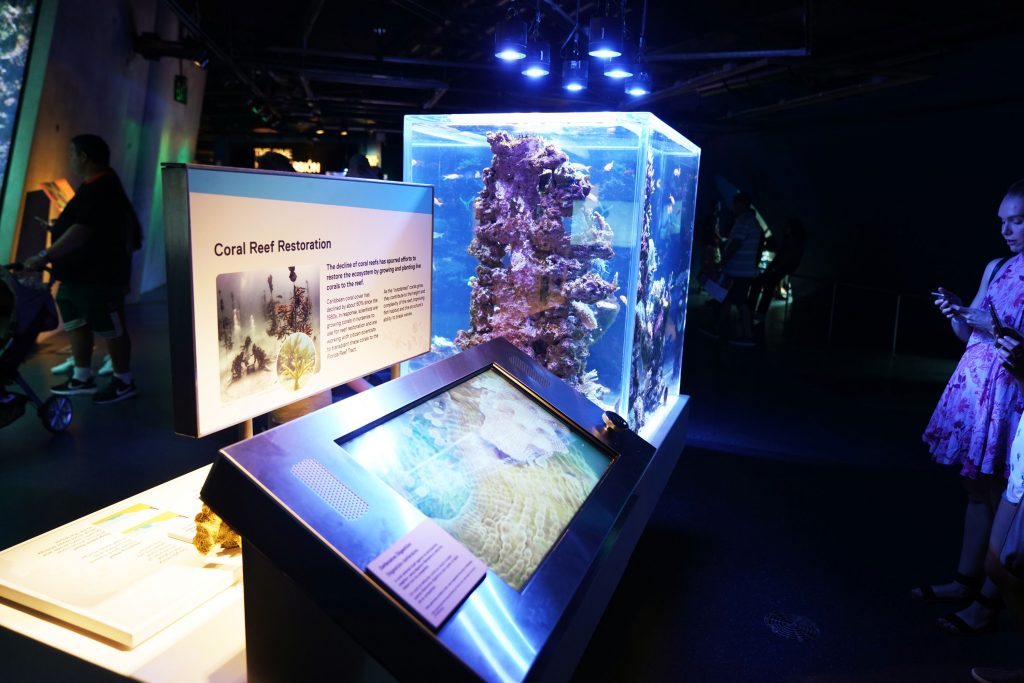 Humans and nature are working together to help South Florida adapt to sea level rise. Plan a visit to Frost Science and see for yourself!
The post Using the Power of Nature to Fight the Effects of Sea Level Rise appeared first on Frost Science.
As part of the museum's #ToxinTakeoverMiami, we invited Wendy Stephan of the Florida Poison Information Center-Miami to share her insight.
As educator and epidemiologist for the regional poison control center in South Florida, I get an inside view into the fascinating world of poison. My training in public health (and experience as a parent) have been great preparation for my work educating on an always-changing array of hazards. About a week after I started work at our center at Jackson Memorial Hospital/University of Miami Medical Center, I arrived to find my colleagues in hazmat suits. It turned out to be a drill for the hospital's decontamination team, but I did briefly wonder if every day at the poison center would be so exciting!
For the most part, the 55 poison centers around the U.S. see similar poisonings from day to day. Why? Every Target or Walmart carries the same cleaners and cosmetics. Prescription-strength and over-the-counter medications are also comparable in Miami or Minneapolis. But locally, we do have some unique poisons that stump even doctors. Among the 250 calls we process each day, we might treat tropical marine poisonings, exposures to exotic plants, and/or herbal concoctions from around the world.
Imagine licking an ice cream cone and having it burn your tongue. Or walking across a tile floor that feels like it's on fire. These odd sensations are a tell-tale symptom of ciguatera fish poisoning. Ciguatera results from eating a reef fish containing a high concentration of a powerful neurotoxin. Besides "reversal of hot and cold" sensations, ciguatera can also cause diarrhea, vomiting, muscle aches and weakness. If not treated within the first 72 hours, symptoms can last for weeks or even months.
You might think a plant called "angel's trumpet" would be harmlessly pretty. Not so. People who eat this plant (or sip a tea from its leaves) may find out the hard way that this plant is a killer. Most of the deaths from Brugmansia in the United States occur in our area. Symptoms can include rapid heart rate, hallucinations, increased body temperature, dilated eyes, and flushed face. Our hot weather makes it more likely that victims will dangerously dehydrate and not survive.
Have you ever taken a supplement to stay healthy? One case we treated involved the consumption of a liquid brought from Asia known as "snake wine." Yes, there was a snake, unknown herbs (and a scorpion!) marinating in bottle of wine in the photo snapped at a local emergency room. Apparently, the person who sipped this supposed cancer preventive was not feeling well at all!
But our work is not all weird or dramatic. Early in my role as educator, I asked Earlene, one of our poison specialists, if she was treating anything exciting. She smiled kindly and said, "No, it's been the best sort of day – I've gotten to tell my callers that everything's going to be just fine." As darkly fascinating as work at the poison center can be, she reminded me of the best part of our job – providing accurate information and reassurance to our callers, every day.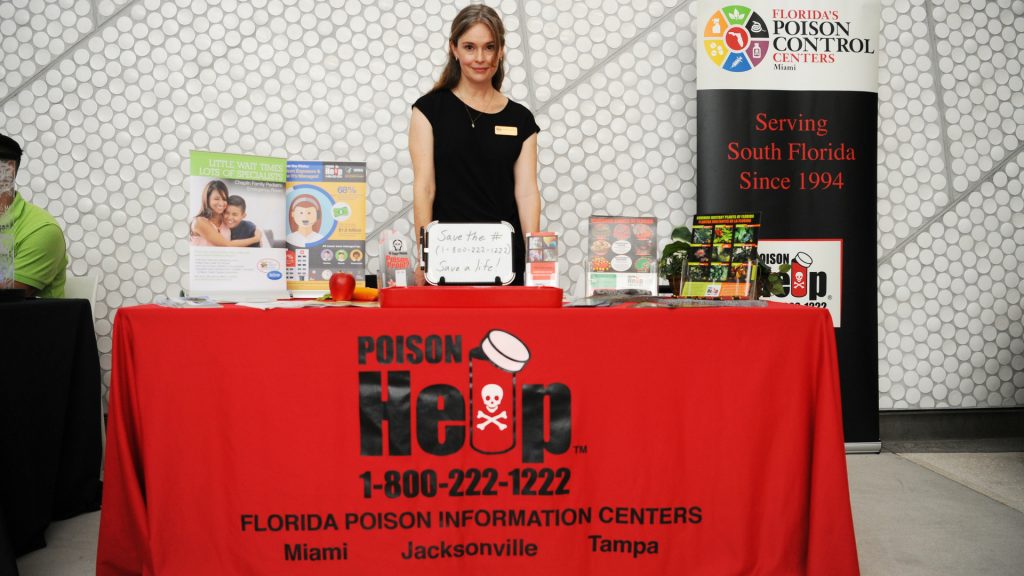 For more information about Florida's Poison Control Centers visit our table every weekend at Frost Science, www.floridapoisoncontrol.org, or call 1-800-222-1222 for immediate assistance with any poisoning or poison-related question.
The Power of Poison is on view through Monday, September 3, 2018 inside the Hsiao Family Special Exhibition Gallery on the first floor of the museum. The exhibition is supported locally by Jackson Health System and Florida Poison Information Center-Miami. The Power of Poison is organized by the American Museum of Natural History, New York (www.amnh.org).
The post Pushing Back Against Poison appeared first on Frost Science.
On a rainy Saturday morning, over 20 volunteers from FedEx joined Museum Volunteers for the Environment (MUVE) for a very wet coastal restoration day. Despite the downpour on May 19, volunteers of all ages helped plant around 400 plants at a restoration site on Virginia Key.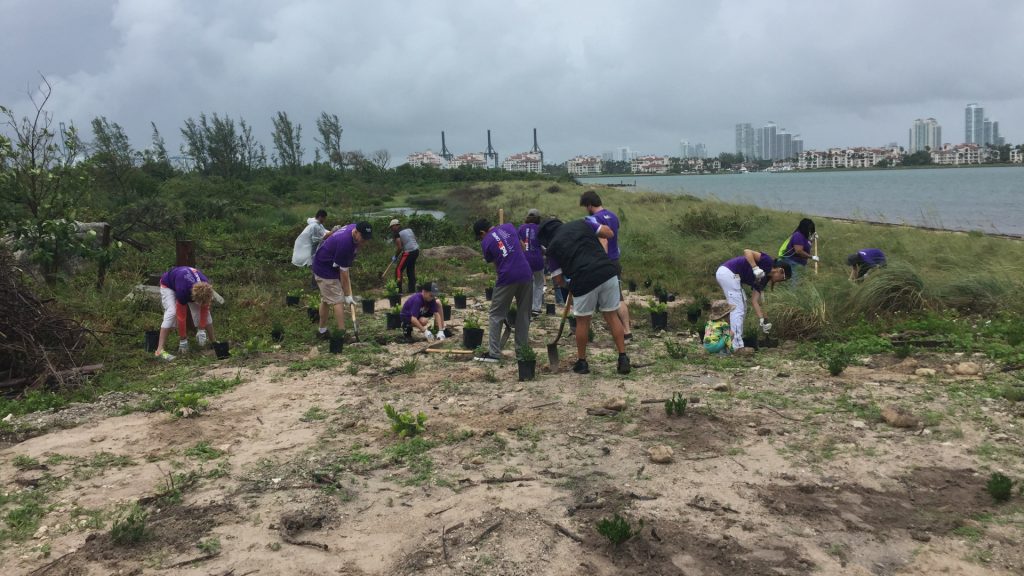 This site, which has been nicknamed "The Gap," has been undergoing restoration since the end of last year. Located in Virginia Key North Point, the gap was a former access path covered in residual invasive vegetation and debris. With the help of the City of Miami and Miami-Dade County, invasive species (such as scaevola and Australian pine) were removed from the area before it was flattened for optimal planting. Once cleared, volunteers were needed to quickly stop invasive plants from coming back.
We identified an area at the top of the dune that was suitable for native plant species to thrive—such as beach creeper, coco plum and saw palmetto—and help the dune from eroding during heavy summer rains. Enter: our FedEx volunteers. This hardworking group dug into the sand and tough rocky terrain to plant over 125 of these plants in record time.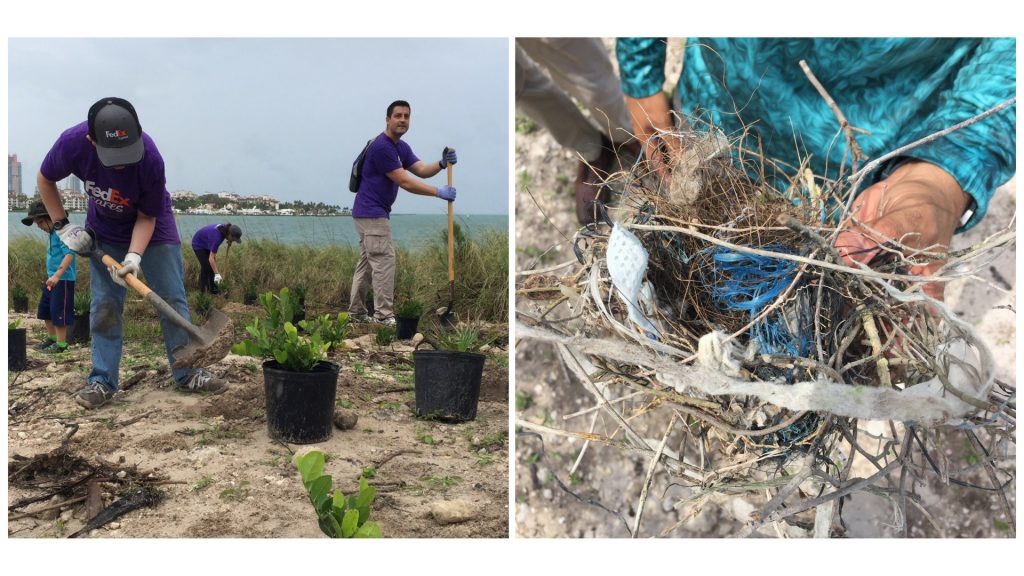 Next, FedEx volunteers moved down the dune to plant sea oats. This native species helps create living shorelines by stabilizing sandy areas through their deep roots. In order to plant the sea oats successfully, volunteers first removed the invading ragweed plants that were covering the sand. In its place, volunteers placed sea oat plugs which will quickly grow and out compete the ragweed. Even when it began to rain, volunteers were determined to continue establishing the plants into the dune and planted over 250 sea oats.
Another group of helpers noticed a large amount of debris littering the coastline. Using the marine debris tracker app, FedEx volunteers became citizen scientists by removing and recording the types of debris they found while cleaning the beach. This beach is an active sea turtle nesting area. By removing debris, not only does the beach become more visually appealing, we create less obstacles for these and other protected animals to move around and thrive.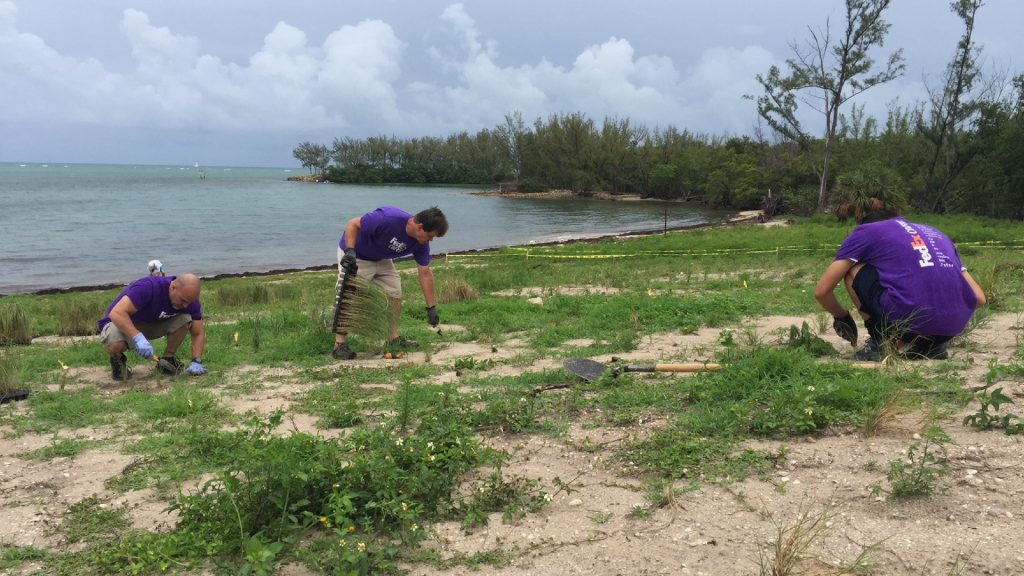 Since 2011, FedEx and the Frost Science have been working together to restore subtropical forests in South Florida through the FedEx Cares program with National Fish and Wildlife Foundation. These volunteers are helping to improve our public lands by making them more wildlife friendly and bringing them closer to their native characteristics—which naturally helps protect South Florida during storms. Since Virginia Key North Point has been a restoration project, there has been a decrease in erosion and an increase in native animals such as water fowl and American crocodiles. We are now witnessing one of Miami's most historical beaches become an inviting environment for both people and nature.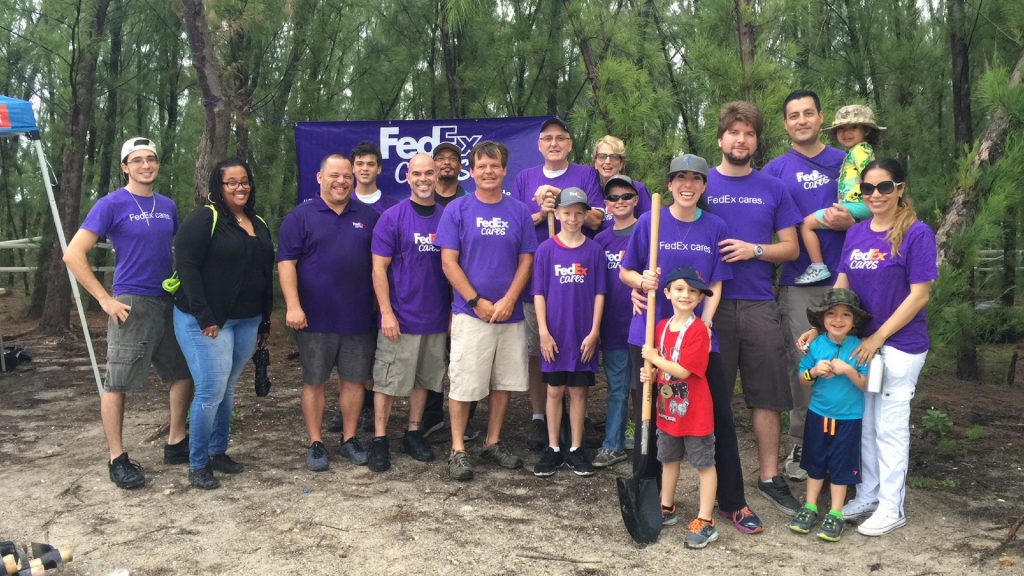 The post MUVE Joins Forces with FedEx Volunteers to Restore Critical Virginia Key Ecosystem appeared first on Frost Science.