Gallery, page 2

My First Astrophoto

by John Pancoast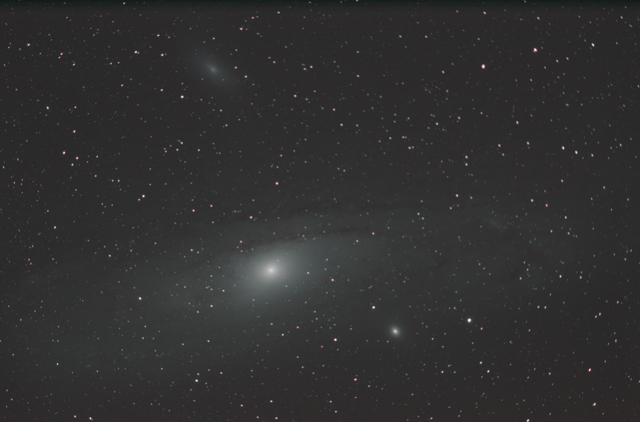 This is the first picture that I have been able to create by stacking multiple exposures. It comes on the heels of several months of trial and error with very few good opportunities to image, due to the local streetlights (5 shine on my driveway) and general light pollution at home in North Haven.
I have always been captivated by Andromeda but, before this year, I had never actually seen it. I believe it was at CSP25 last year that I first saw it through some kind astronomer's enormous refractor. I was delighted to discover how to find it for myself and to see it through binoculars whenever it was up.
When I have had the opportunity, something always seemed to jump out and bedevil me! Early this past spring, in April, just after the NEAF show, I went up to the Berkshires for a few nights to try out some of my equipment. This included a 110mm William Optics refractor and a 127mm Meade SCT, the former bought on Cloudy Nights and the latter on eBay. I was also just getting to know how to set up and use my iOptron CEM25 mount and to control the Canon T3i DSLR with my computer. Oh, and I can't forget the Kendrick observatory tent, also from Cloudy Nights, which I had (ahem) never set up.
Each of these proved challenging in its own way that first spring weekend under dark skies. I had trouble balancing the refractor on the mount. Then the camera wouldn't come to focus with the short adapter I had. Of course, I was doing all this in the dark because it took me so long to figure out how the tent was supposed to be set up! Note to self – there's no such thing as being too early to a star party.
I did get some images of Mars that evening through the eyepiece holder of the Meade SCT using the Canon in video mode. Looks great on the camera… Unfortunately, I can't convert the .mov file to .avi in a way that my Autostakkert! can recognize. Ugh! More stuff I need to buy… So I still haven't processed that file. I had some more practice at the Summer Star Party in Massachusetts, the same weekend as Stellafane.
Fast forward to the present. After getting progressively better at aligning and balancing the mount, and doing lots of test shots on bright stars from home, I discovered that my maximum unguided exposure was about 30 seconds. Heading up to northwest Connecticut for Labor Day weekend, I got everything to work well enough for this picture of M31.
So, here you have it… my first astro photo. This is a stack of 165 lights and 20 darks exposed for 30 seconds each through the William Optics 110 mm refractor (655 mm focal length f/5.95) using Nebulosity4 for both acquisition and all processing. I use a MacBook Air, and this seems to be the best technical solution.
Now, after a year of paying attention to the night sky, I know where a lot of beautiful objects are hiding. I'm looking forward to making longer exposures and learning the art of processing in the months and years ahead.