News from New Horizons
by Laurie Averill, Solar System Ambassador
Summarized from the teleconference "New Horizons Mission Update" by Dr. Cathy Olkin, New Horizons Deputy Project Scientist, for Solar System Ambassadors on Dec. 12, 2016. All images are courtesy the New Horizons Mission, SWRI/JHUAPL/NASA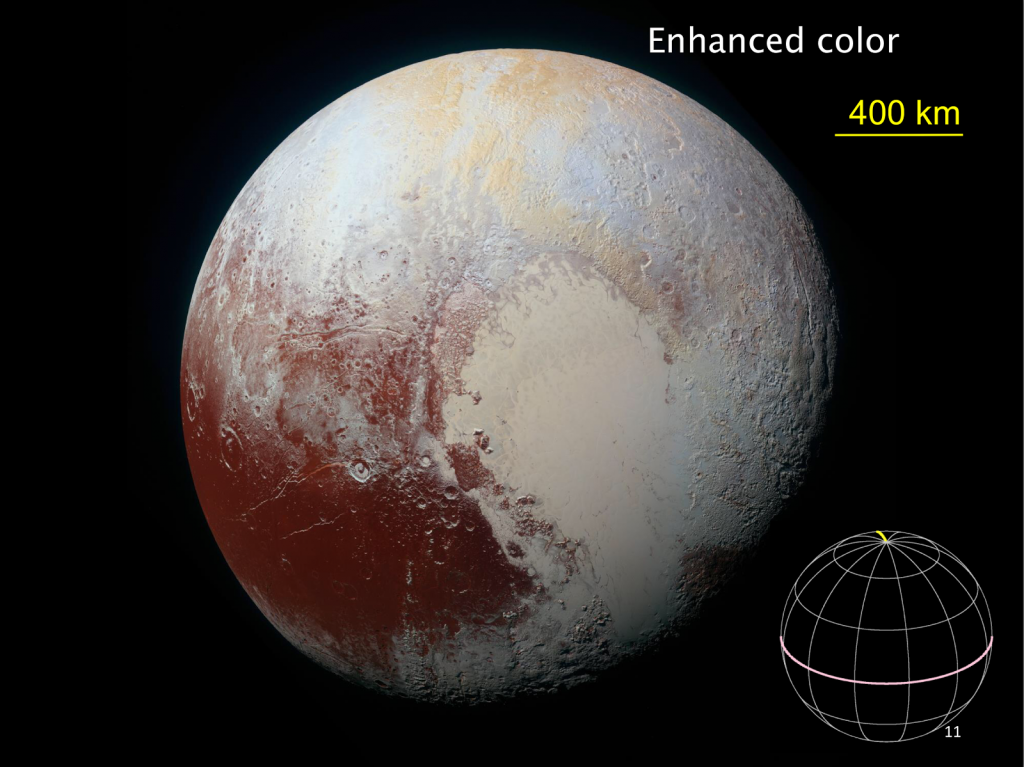 The 16 month trickle of data that was gathered during the July 14, 2016, New Horizons's flyby of Pluto ended in October 2016 and its analyses are yielding interesting discoveries. They reinforce preliminary findings that Pluto is a dynamic planet with active glaciers of flowing frozen nitrogen and methane that sink and rise subvectively.  Subvection is the sinking down and melting of older material and the welling up and freezing of new materials. Evidence of cryovolcanism (ice volcanoes), a possible subsurface ocean, and change in the color of the surface of the planet as it ages has been found. The New Horizons mission has also been extended to travel to the Kuiper Belt.
Pluto's Color
Older, colder surfaces of Pluto are red likely from tholins. Tholins, red chained macromolecules, form when methane and nitrogen are broken up and ionized by ultraviolet radiation. These clump together and fall to the surface as red gunk. They stick to and accumulate on the colder, non vertical surfaces of the planet, turning them red. The older the colder non-vertical surface, the redder.
Pluto's Craters
Craters–the more craters, the older the surface–indicate that the age of the oldest surfaces of Pluto are about 4 billion years and the youngest surfaces about 100,000 years. Unusual on other moons and planets, double impact craters are common on Pluto. Possibly the location of Pluto nearer the Kuiper Belt is the cause. Newer craters have dark bottoms and ejecta patterns; these features in older craters appear to be coated by frost.
(Continued next page)