ASNH Loans a Telescope to Branford's Blackstone Library for Borrowing by Library Patrons
In an effort to increase public interest in astronomy, ASNH has loaned a 4.5-inch Orion Starblast telescope to the Blackstone Memorial Library in Branford. This telescope was generously donated by Greg and Cheryl Barker. It will be available to be checked out by library users for one week at a time. On Saturday, June 3, the library held a public event to inaugurate this program. ASNH President Greg Barker officially presented the telescope to the library and discussed our interest in having community members borrow it and learn about the night sky. Jim Mazur gave a presentation on how to use to telescope and how to find some objects in the summer sky using an all-sky star chart. Cheryl Barker and Laurie Averill were also at this event, and after the presentations, all of us met individually with those who came to answer their questions about telescopes and astronomy. Everyone present also received a star chart for June and eclipse glasses for the August solar eclipse.
There were several individuals and families eager to borrow the telescope, and Librarian Katy Dillman held a lottery to select the lucky individual who got to take the telescope home that day. The others are on a waiting list and will be able to borrow the telescope in their turn over the next several weeks.
This telescope loan program (and the choice of this particular type of telescope) was patterned after a successful program of this type that was first developed by the New Hampshire Astronomical Society and has spread to many parts of the country. Here is an article that describes the origins and successes of these programs:
http://www.skyandtelescope.com/observing/stargazers-corner/library-telescope-program-update/
The telescope is very lightweight and portable. ASNH member Jim Podpolucha modified this telescope to make it more suitable for public use by adding lock nuts to the collimation knobs, attaching cables to the dust covers, and locking the zoom eyepiece in place with setscrews. The zoom eyepiece provides magnifications from 19x to 56x. The telescope can give very nice views of the Moon, planets, double stars, and the brighter deep-sky objects. It comes with a carrying bag, an instruction manual, a star chart for the current month, and a pocket guide to the constellations that recommends suitable targets for each season of the year.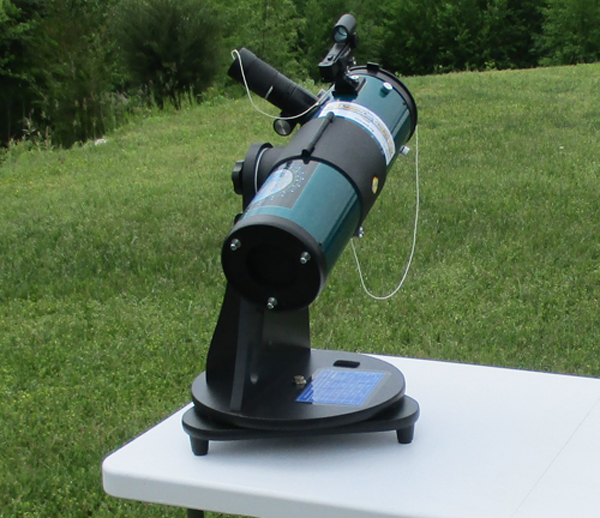 Some of those who are planning to borrow the telescope are families with young children. We hope that the chance to use a telescope and view the wonders of the night sky will stimulate an interest in astronomy in the younger generation. We encouraged those present to come to the ASNH observing nights at Young's Pond Park in Branford and to other ASNH activities.