Upcoming Public Events
These events are free and open to the public. If the weather looks questionable for an observing event, check the ASNH website before you leave home. There will be a scrolling message on the home page if an event has been cancelled.
Saturday, August 12, dusk
Ansonia Nature Center, Ansonia CT
Perseid meteor shower and public observing session
Upcoming Events for ASNH Members
Saturday, July 1, dusk
Trumbull Nature & Arts Center, Trumbull CT
Outreach program: Members and telescopes are needed.
(Rain date Sunday, July 2)
Friday, July 14, dusk
New Haven Land Trust, Long Wharf Nature Preserve
Observing night for ASNH members
(Rain date Saturday, July 15)
Thursday, July 20 – Sunday, July 24
Stellafane Convention
Breezy Hill, Springfield VT
Friday, September 15, 8:00-10:00pm
Colchester Land Trust
Outreach program: Members and telescopes are needed.
(Rain date Saturday, September 16)
Friday, September 22 – Sunday, September 24
Connecticut Star Party
Edmund D. Strang Scout Reservation, Goshen CT
Solar Observing at Ansonia Nature Center
On Saturday, June 10, a small group did some solar observing at the Ansonia Nature Center.  The event began indoors with a presentation by Bob Carruthers about the Sun–its size, distance, and characteristics.  Bob also explained what features could be observed through the telescopes.  Then the group went outdoors to look through several telescopes.  There were scattered clouds but with enough breaks to get some good looks at the Sun.  There were few if any sunspots, but other features were visible on the solar disk.  One of the attendees brought a beautiful solar telescope that he had built, which attracted everyone's attention and appreciation. Everyone who needed them were given solar viewing glasses for viewing the August 21 solar eclipse.
Summer Solstice Picnic
The annual ASNH solstice picnic was held on Saturday June 24 at the pavilion at Sleeping Giant State Park in Hamden.  We had a good gathering, and it was a sunny and beautiful afternoon. As always, there was plenty of good food, relaxing conversation, music, and some solar observing.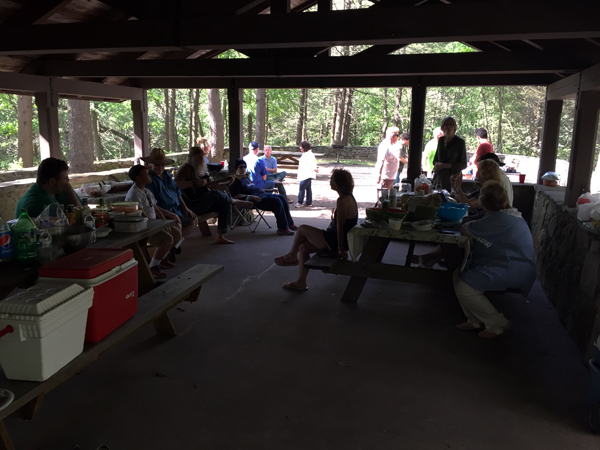 Features
If you have not looked at the newsletter before, check out some of the regular features. There are four useful links in the menu at the top of this page:
Calendar This is a monthly calendar that includes all the scheduled events of ASNH, other regional events of interest, plus the dates and times of noteworthy events in the night sky.
SkyMap This page has a chart of the sky as it appears over the New Haven area at the present date and time. It is constantly updated, so you can go to this page on any clear night to see what is overhead.
Space Place Read the monthly article from Space Place.
Directions This page gives directions to all the locations where regular activities of ASNH take place, including the monthly meeting, public observing sessions, and the annual Connecticut Star Party.
Other regular features can be found within these pages:
Upcoming Public Events Many ASNH events are free and open to the public. These include the monthly meetings and public observing sessions at Young's Pond Park in Branford and Silver Sands State Park in Milford. This section gives the dates, times, and descriptions of these events.
Upcoming Events for ASNH Members These events are for ASNH members only. Some are private observing nights, and others are outreach events where volunteers are needed with the telescopes and equipment.
Night Sky Highlights This section lists some objects to observe in the sky during the next few months, whether you are using just your eyes, a pair of binoculars, or a telescope.
Gallery This section will feature recent photographs of celestial targets taken by ASNH members and others. If you have a picture you want to share with us, please submit it to newsletter@asnh.org.