Stellafane Convention, July 20-23, 2017
By Donna Pursley
Since the New Haven area in Connecticut doesn't have the darkest skies (and this year, the best weather), many of us take a star gazing trip at some point during the year. For Mike and me, it was to Stellafane in Vermont. We go a day early, so that makes a possible 3 nights of viewing. I found most of my objects on Thursday, which was the best night, including a few nebulas. Friday had about 30% moving clouds so the holes to view through moved around quickly. It was forecast for rain on Saturday, so most people packed up early. It never did rain, but there was 100% cloud cover.
New this year, they had a lobster bake on Friday night. We didn't go for that, but I heard that it was good. We stayed at the Hartness House Inn which they are renovating a bit at a time. They have a new chef and the breakfast and dinner were excellent.
The picture below shows the Pink House, Russell Porter's uniquely designed Turret Telescope and a few homemade scopes. On the right is a picture of a homemade scope called the Gilligan Island scope, complete with coconut counterweight. Bob Carruthers would be proud.
It is great to get out and meet new people interested in astronomy.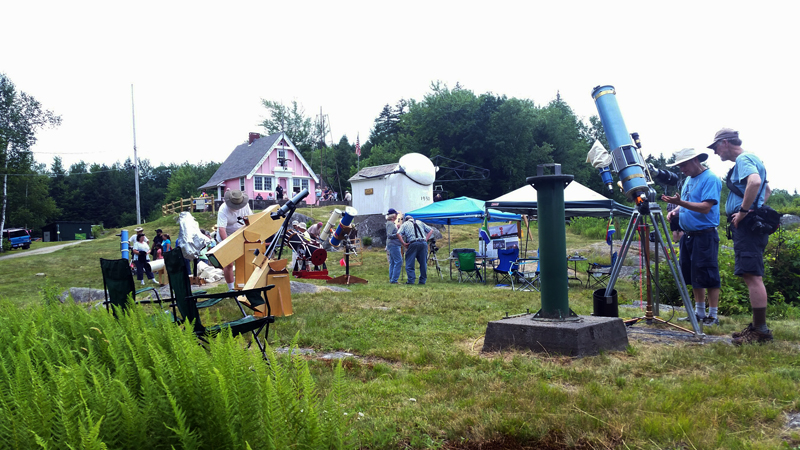 Star Gazing at the Cold Spring Farm Hosted by the Colchester Land Trust
Friday, September 15, 2017

By Donna Pursley
My first thought as we were driving out to Colchester was, what was Greg thinking. This place is in the middle of nowhere with no majors roads going from here to there. Then we saw the huge field with one of the best
northern, western and eastern horizons that I have seen.
The sky was perfectly clear. It was so dark, we saw a beautiful Milky Way. This would be a great place for viewing if there was no dew. It was a damp day and dew heaters were set on max.
There was a large crowd and here were long lines at the larger scopes, as usual. There were probably about 50
people, mostly adults and a few older children. They were one of the most courteous groups that we have seen.
But I can't believe how many hadn't seen the movie ET or knew about the Greek Myth of Andromeda.
It was a very successful night and good practice for CSP, especially since we haven't had many outreach events this year.