Sunrise Solar Eclipse, June 10, 2021
Sky conditions were definitely mixed in southern Connecticut for this partial solar eclipse. There were clouds and there were breaks of clearing. Some of us had success in viewing and imaging the eclipse, and others did not. Below are some member reports and some very nice images.
From Leo Taylor:
I woke up at 4:30 am, a half hour before my alarm was set for. I stepped outside in my night shirt and saw a bright object high in the sky, I think it was Saturn. It was a GO so I stayed up. I even had time to shower and get dressed. <G>
I arrived at my chosen spot at 5:20 am. I set up a tripod, Short Tube 80mm FL 400, white light Sun filter, and old Pentax DSLR. First photo was 5:33. Had a few technical issues because my test and calibrate session Wednesday evening was rained out.

There was only one couple on the field fast walking laps. Eventually the fellow complained I was blocking the paved path forcing him toward the bushes. My tripod was on the grass, my shoes were half on the grass. I moved 6 inches further down the hill and I trimmed the bushes. He said OK on his next pass. They did not leave until my last photo at 5:55 when the Sun moved behind a large cloud.
I'm glad I got to see it. I took 44 photos, two best are below.
Top: 5:41 am. Bottom: 5:55 am. Notice that the Moon is moving down to the left across the Sun.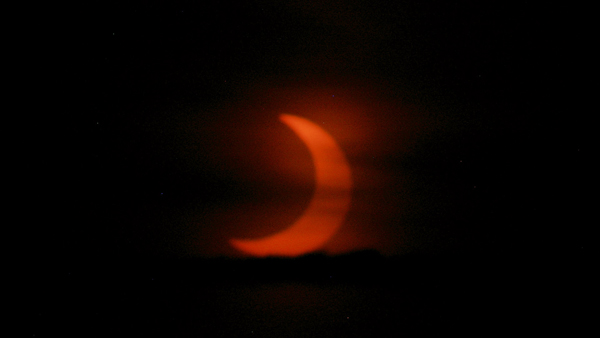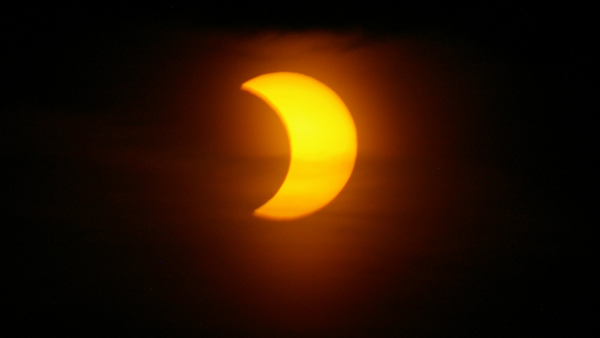 From Pat Maturo:
Hope you folks got to see it. My local spot at the community center turned out better than I thought. But a big bank of slow moving clouds moved in before the Sun got high enough to see, and it didn't clear out until 6:34, just when it was over. I didn't see any of it. Haha , so it goes!
From Donna Pursley:
Mike and I drove a few minutes to a close by neighborhood the is high on a hill. We got there about 5:20 and watched the beam of light that told us where the sun would be rising. The horizon was blocked by Tilcon Mountain so we did not have a horizon view. It was about 5:43 when we were able to start seeing the sun. From Sky Safari I am guessing it was about 2 degrees. We watched for about 10 minutes until the clouds started blocking the sun. We drove home and went to the backyard to pick up the eclipse again. Just one spot in the backyard can view at about 5 degrees between a gap in the trees. We watched a bit more until the clouds came back in.
From Chris Predom:
I did get to see some of it from my home. Went outside trying to find a opening between houses across street. Could not find one, but I could see the sunlight reflected off of the windows onto the house next to it. Turned around to head back indoors, and noticed sunlight hitting one of my bedroom window areas. Rushed upstairs with the solar eclipse glasses in hand. Threw open the window, and there it was, about 25 to 35% covered. My wife got a chance to see it. Later the Sun had some clouds cover it. Had a small opening in the clouds, so I caught the tail end of it, before heading off to work.